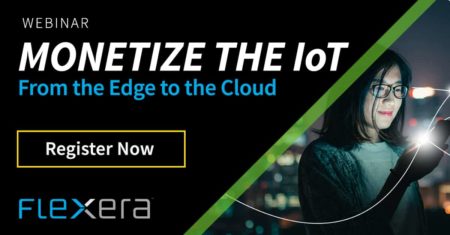 Best Practices for Developing New IoT Business Models
New IoT business models are great – and are even better when they actually work!
Join R "Ray" Wang and Flexera's Matthew Dunkley, as they discuss the top 2018 priorities that can help you:
Refine your digital strategy
Support your business model with the right technology
Make sure that your IoT management and monetization approach is up to current standards
Register Now
April 11, 12 pm CT | April 12, 10 am Sydney time | April 19, 10 am UK time
Future-proof Your IoT Business Model
Ray will take you through a definition of IoT success. He will share how to set your course for digital transformation and what it means for your business model and customer relationship. Learn to monetize more effectively.
Get Ready for the Edge
Everyone's talking about edge computing, but what are the trends that are driving the market? Where's your benefit? And what's needed to define and run a secure and profitable IoT offering and drive value from data and insights? Matthew and Ray will shed some light on this!
Manage Well and Monetize What Matters
Lastly, only those who manage their IoT offerings well will succeed. Matthew will take you through the cornerstones of IoT Monetization – know your customers, manage software and devices, automate updates and monetize what matters.