In the recent Revenera research report, Revenera Monetization Monitor: Monetization Models and Pricing, Revenera found that most software suppliers today are using a mix of different monetization and deployment models. 
For most companies, flexibility is the key as companies and industries work through changes in their businesses and as they keep up with trends in deployment models.
Deployment model doesn't dictate monetization model (and vice versa).

Most companies today are managing multiple deployment and monetization models. While certain deployment models (e.g., SaaS) often go with certain monetization models (e.g. subscription), this isn't always the case. Similarly, on-prem deployment does not necessarily equal perpetual licenses. 

Even in the age of SaaS, on-prem will be an option for a long time.

Yes, SaaS is a trendsetter, with 72% of respondents saying they'll see an increase in its use over the coming three years. Yet on-premises software is holding strong: 63% of respondents currently have moderate to extensive on-premises deployments and 46% of companies anticipate an increase in on-prem deployments in the next three years.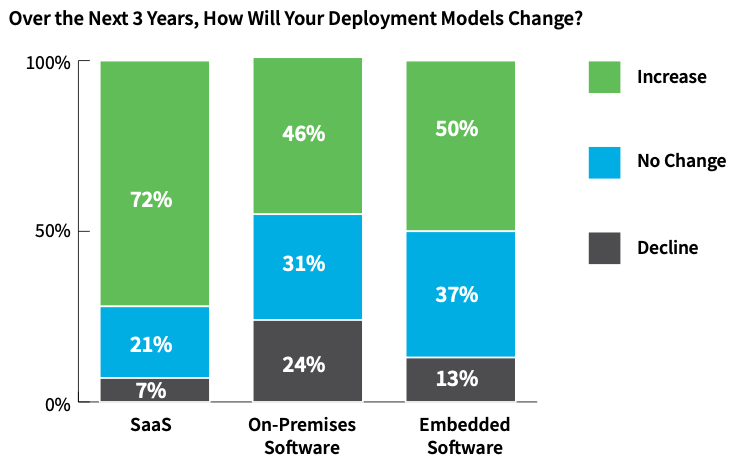 Trending: subscriptions for on-prem software.

The on-premises deployment model is being used by 28% of companies that identified subscription as their dominant monetization model. This shows the core end-user benefits of subscriptions, including controlled expenses and consistent software updates, are just as important to on-premises users as they are to SaaS users.  

Hybrid is here.

The Revenera research results clearly show that software suppliers will continue to rely on hybrid approaches for both monetization and deployments. These models are driven by the varying needs of customers in different markets and to meet different use cases. Also, the risk for suppliers of changing business models for products with a big installed base seems to play a role. Few suppliers leverage only one model across their offerings. The momentum behind flexible models like subscriptions or usage-based models will continue to build.
Product managers: what's best for your business ? For your customers? The research shows that there isn't a single, simple model for monetizing and deploying software. Software and IoT companies that navigate this complex matrix of solutions more effectively than their competitors—based on real usage insight—will likely be the winners.