Revenera's Monetization Monitor is an annual series of reports based on surveys of software suppliers' monetization and deployment models and their adoption of product usage analytics. We just announced the first report for 2021 that focuses on Software Monetization Models and Strategies, with a second report on Software Usage Analytics to follow.
The findings make it clear that software suppliers are looking for ways to move to SaaS offerings and recurring revenue, but they must still meet customers' wider range of needs and support a broad mix of monetization and deployment models. Here are some highlights from the new report:
Hybridization Continues in Monetization and Deployment Models
Today's dominant software monetization models are still subscription and perpetual licensing. In the coming 12–18 months, subscription and usage-based models will be the two largest growth categories.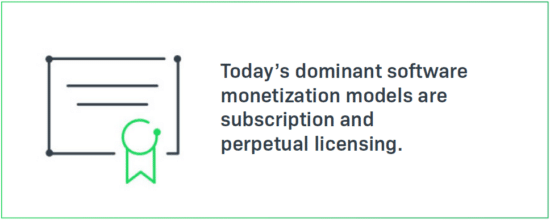 Most Companies Have a Mix of Deployment Models, with SaaS Showing the Strongest Growth
59% of respondents in this year's survey report an anticipated increase in their use of SaaS. Suppliers must be prepared to support multiple models simultaneously, rather than anticipate the move toward a single approach for software sales and delivery.
Aligning Price with Value Delivered to Customers
The highest rates of customer satisfaction and retention are only possible when the price (the expense for the customer) of a product is aligned with its value (the perceived utility). Yet only 30% of respondents say that pricing and value are "totally aligned," offering much room for improvement. Multiple impediments complicate the goal. Top among them: lack of customer acceptance for new monetization models.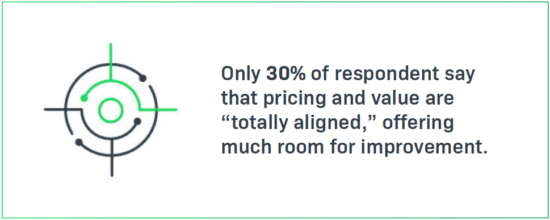 Strategies for Ongoing Revenue Growth
The need for business agility was magnified by the impact of the COVID-19 pandemic, and this was as true in the world of software, as elsewhere. With cloud deployments and subscription offerings gaining traction, suppliers must remain adept at managing these varied options in order to ensure customer satisfaction and revenue growth. Reasons for changing licensing strategies include the need to tighten license controls and enforcement, accurate price usage, and lower the barriers to entry. The implementation of a recurring revenue (subscription) model was the top driver of change over the past two years.

Be sure to download and read the Monetization Monitor report for more details and analysis and let us know what you think in the comments.