It is an understatement to say that conditions created by the COVID-19 pandemic have presented challenges to software suppliers across the board. Global enterprise software giant SAP (a company that sells software both on-premise and in the cloud) reported a decrease in the revenue it had projected and then cut its revenue and profit forecast for the remainder of the year in its third quarter earnings released in October.
CEO Christian Klein noted: "We have always been the leading on-premises application platform, and thousands of partners and customers have built applications and extensions on SAP for almost 50 years. Our intention is to repeat that for the cloud, to position SAP as the leading cloud platform, to transform and change the way enterprises work in the digital age."
2021 IT Spending Outlook
The good news for software suppliers is that many companies expect IT spending to increase in 2021. IDC recently released data showing that while 27% of the 791 companies surveyed said their IT spend will be lower than expected this year, 42% plan to increase IT spending by 2021 to levels higher than they originally expected (and 26% expecting no impact on IT spending).
But software suppliers know that revenue leakage can occur when customers aren't getting value from their software investments. Customers are reticent to buy more licenses, or worse, they decide not to renew.
Aligning Price with Value
The challenge for software suppliers is correctly aligning price (the expense for the customer) and value (the perceived utility). Suppliers seek to achieve this balance in order to support high customer satisfaction and retention rates, while remaining competitive in the market. Our Monetization Monitor: Monetization Models and Pricing 2020 (based on our Software and IoT Monetization Survey conducted over the spring of 2020 and included 250 software business professionals) reveals that less than half of those surveyed feel that price is aligned with the value of their products.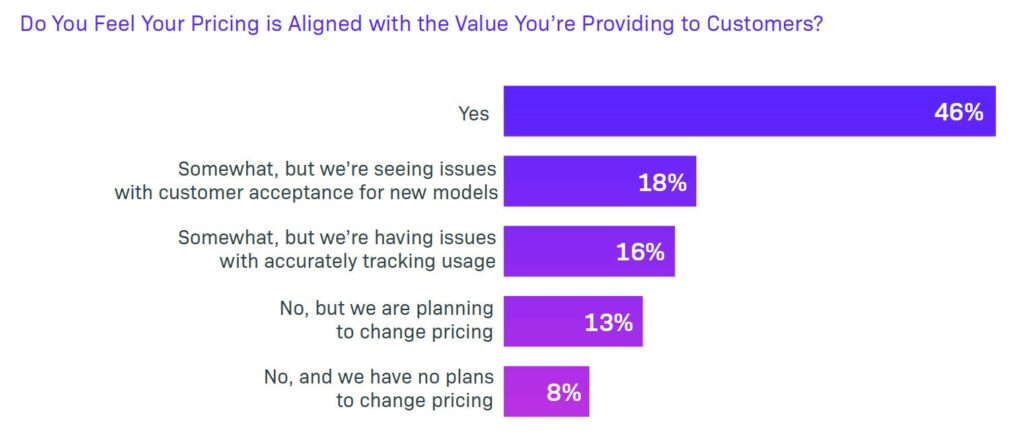 They're also struggling to identify the best packaging, pricing, contract or payment terms because they don't have access to the right metrics. More than a 1/3 of those surveyed reported that insufficient insight into usage is the top barrier, closely followed by insufficient insight into user personas and priorities and issues defining the right usage metrics.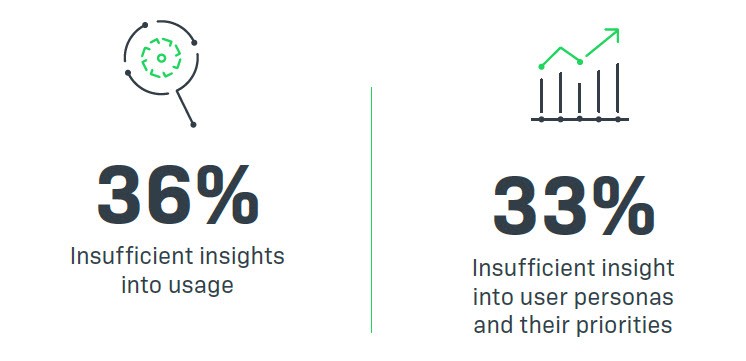 To align price and value you need data that can point to insights like whether:
Customers are engaged with your applications
The product and feature enhancements from your roadmap are actually being used
There are usage trends that suggest new pricing, licensing or deployment models would yield better returns
Different user segments utilize your products in unique ways
There are usability or user flow challenges keeping customers from achieving their goals with your product
While many companies build their own solutions to track usage, combing through that data in Excel, this approach will quickly fall short. There are massive limitations on reporting, visualization, and sharing that data to the wider organization and senior leadership where decisions on monetization strategies are made.
This is where data from entitlement management and software usage analytics provides game-changing value. With insight into metrics around usage, the business can bring together that data with data from the CRM and other business systems and zero in on driving value. Among companies that leverage usage-based monetization models, our research shows that 100% are confident that price and value are aligned – a significant advantage that suppliers of on-premise software can look to for similar alignment.
One of the major takeaways from analysis of SAP's earnings was that this loss would likely be short-term – and that its long-term strategy of moving customers to its cloud-based products was sound. By having the right insight into how customers are using the software, software suppliers can continue to evolve licensing and deployment models with the needs of the current environment, and better align long-term software monetization strategies at the pace and needs of their customers.