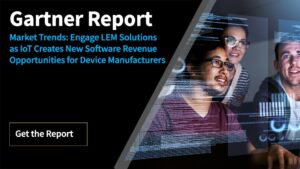 The Internet of Things (IoT) is changing the way companies produce and sell their products and the way buyers are using them. Intelligent device manufacturers are moving from traditional hardware-centric business models to new digital business models. With this shift, they are leveraging the value of software, data and services. In other words, manufacturers are becoming software vendors who now need to rely on software monetization solutions to protect, differentiate and monetize their offerings.
"By 2022, a failure to put in place a license and entitlement management (LEM) system will result in a 30% loss of potential revenue generated from software for devise manufacturers connecting to the Internet of Things (IoT) Universe."
– Gartner Market Trends Report 2017
In the recent Market Trends research, Gartner examines innovations for earning additional revenue streams from software. The report speaks to those technology strategists who are transforming their traditional business model into a software-driven IoT business and discusses how to:
Acquire new and improved tools to leverage Software Licensing and Entitlement Management (LEM) capability.
Utilize a LEM solution to successfully monetize in an IoT ecosystem
Plan for cost and access factors at the application/data layer during cloud migration.
Adopt a flexible software licensing solution to achieve a faster time to value.
Click Here to get your copy of the Gartner Market Trends Report from REVENERA.