Ecommerce provider cleverbridge shared an interesting infographic from Invesp on its blog yesterday that focused on "customer acquisition vs. retention costs." Among some of the more interesting findings:
Customer acquisition costs five times as much as customer retention
76 percent of companies see customer lifetime value (CLV) as an important concept for their organization
Top digital marketing tactics for customer retention include email, social media, content, referrals and SEO
The blog author (Elan Sherbill) does point out that when he googled the claim that customer acquisition costs five times as much as customer retention he "wasn't exactly surprised to find some discrepancy among the results regarding both the extent and veracity of that claim." Despite this, most of us in sales and marketing recognize that the challenges of filling the sales funnel (and converting prospects to customers) is both more challenging and more expensive than retaining customers that are already sold on the value of a solution. Indeed, the infographic points out that 70 percent of respondents agreed that it's cheaper to retain than acquire a customer. Even more importantly, "the probability of selling to an existing customer is 60-70%, while the probability of selling to a new prospect is 5-20%."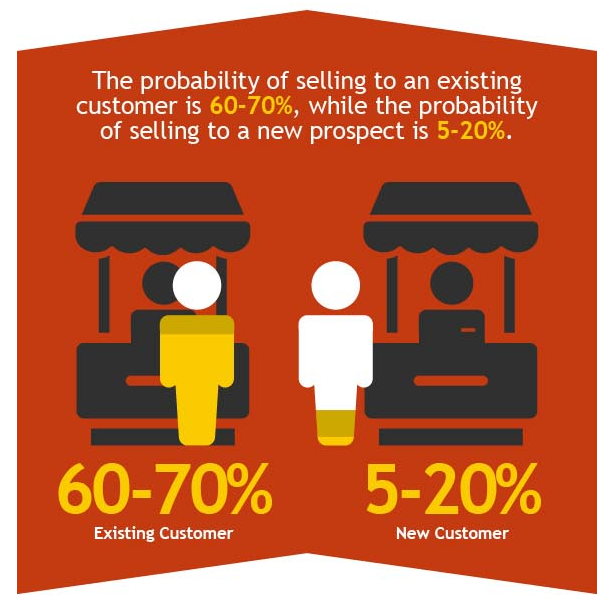 While the infographic focuses on the challenges of increasing customer retention rates, I had a different "aha!" moment: converting software pirates to customers is more like customer retention than customer acquisition.
Think about it: pirate users have already been sold on the value of your software, they just haven't paid you for it yet. We've talked about how 83 percent of pirate users in mature markets are legally-inclined victims of piracy that will pay for software. They don't need to start at the top of your sales funnel: they have already been convinced of the value and benefits by your other marketing channels and their own experience using your software. At this stage, your job of converting pirate users to paying customers has more to do with retention than acquisition.
So if you are one of the 76 percent of companies that thinks customer lifetime value is important (and are confronting software piracy), be sure to add CodeArmor Control to your digital marketing tactics so you can leverage in-application messaging to convert and retain them.