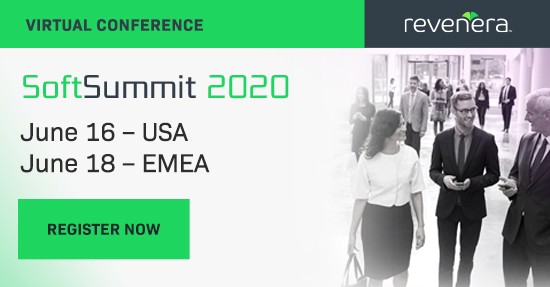 Software product leaders are always under pressure to take products to market fast, unlock the value of their IP and grow revenue streams where possible. At the same time, in challenging economic situations, operational efficiencies, automation and revenue recovery play an equally important role. SoftSummit is the leading conference for software industry executives who want to get ahead of their competition with a strong monetization and usage analytics strategy – for on-premises, embedded, cloud and SaaS solutions.
Join Revenera's virtual SoftSummit and come together with your peers, discuss and exchange ideas – even without leaving your home office. We invite you to hear from thought leaders, industry experts and product specialists for an overview of software industry business and technology trends and discuss your ideas and strategies with your peers.
We are proud to announce product positioning expert April Dunford as our keynote speaker this year. SoftSummit will also include:
Software monetization use cases from Siemens and Agilent
Interactive round table sessions, featuring companies like PTC, Rauland, TechSmith, HCL Software, Solbri, Interneuron, and Riedel
Information about the powerful combination of Software Monetization and Usage Analytics
Updates on pricing and monetization strategies and technology trends
Customer meetings and roadmap sessions for Flexera licensing, entitlement management and usage analytics customers
Hands-on best practices sessions
Virtual coffee or cocktail hour (depending on your time zone) so you can connect with your peers and colleagues and share stories, challenges, and what's working well (BYOB )
Take a look at the agendas:
June 16th – USA
June 18th – EMEA
Register Today. We are looking forward to meeting you virtually at SoftSummit.