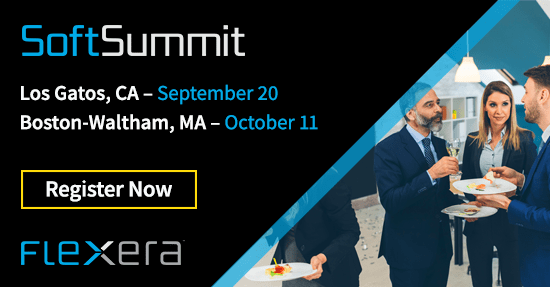 We are getting ready for the leading pricing and monetization conference – SoftSummit – in Los Gatos, California and Boston-Waltham, Massachusetts. More great speakers have been added to the agenda and more industry experts have signed up to join us.
Don't miss out on great presentations, networking time and discussions about software monetization, pricing, licensing and security.
Program Highlights
Smiths Detection: Monetizing the Digital Transformation of the Ports & Borders Industry
Summit Healthcare: Client First: Enabling Product Flexibility to Optimize Service and Support Processes
2020 Spaces: Flexible Monetization in an eCommerce World
Simon-Kucher & Partners: Maximizing Customer Lifetime Value in Subscription Businesses
IDC: The Monetization Ecosystem and Market Trends
Don't Wait. Reserve Your Seat Today.
Monetization Trends
We'll also discuss how smart processes and automation help delivering a fast, smooth and frictionless monetization process and an excellent customer experience. Join us for Flexera sessions and a great panel discussion:
Monetization Panel: Product and Monetization Experts from ADVA Optical, Empirix, Spirent, SKP and IDC Discuss Market Trends with Flexera's Director of Monetization Strategy, Cris Wendt
Monetization in a Post-Sale, On-Demand World – Hybrid Business Models, SaaS Monetization and Customer Growth
Software and Device Updates and Insights for Connected and Disconnected Devices
Open Source Scanning and Security
Join Jeff Luszcz, Open Source expert and VP of Product Management at Flexera to take a deeper look into how software is developed today. Learn about the growing role of open source and get an overview on how the role of open source and the management of license compliance and vulnerabilities: Open Source is Everywhere – A Best Practice Guide for Suppliers
A lot to learn, a lot to talk about, and still enough time to meet with your peers, Flexera experts and industry analysts.
See you at SoftSummit!